Introducing Freakonomics Radio: A Podcast About the Hidden Side of Everything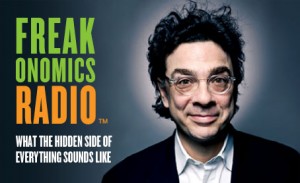 I have always loved radio. There's something magical about the combination of listening intimacy and the technology of widespread transmission. Some of my firmest memories are radio memories: as a kid, listening to WGY in Schenectady, N.Y., on snowy mornings to find out if school was closed; hearing the Clash's "Train in Vain" for the first time and thinking it must have been a mistake, that no radio station could ever play a song so raw and great; learning to
D.J. in college and sending coded messages to a girl I needed to get with.
It is amazing to me that, as much as media has changed in recent decades, the fundamental appeal of radio remains intact — and, in some ways, is much stronger. Technology has helped the cause; podcasts are a radio lover's heroin.
So it is with great pleasure that I announce the launch of Freakonomics Radio, a podcast. We're just finishing up our first episode. It'll be called "What Do NASCAR Drivers, Glenn Beck, and the Hitmen of the NFL Have in Common?" It features interviews with all the people named in the title, along with a good dose of Levitt; I'm the host.
Here's a brief preview in which we hatch our evil plan to make the podcast. Levitt talks about what the world would be like if economists ran it. Highlights: "unpleasant," "demented," but "efficient." Feedback welcome — especially suggestions for topics or stories you'd like to hear.
[Update: You can now subscribe to the podcast on Apple Podcasts here; Stitcher here; or get the RSS feed here.]