Should We Really Behave Like Economists Say We Do? (Ep. 207)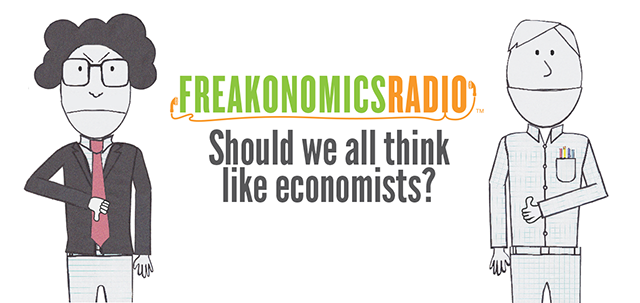 Our latest Freakonomics Radio episode is called "Should We Really Behave Like Economists Say We Do?" (You can subscribe to the podcast at iTunes or elsewhere, get the RSS feed, or listen via the media player above. You can also read the transcript, which includes credits for the music you'll hear in the episode.)

You have perhaps come across the phrase homo economicus, which describes a model for human behavior as seen through the lens of economics. In this episode, you'll hear Freakonomics Radio producer Greg Rosalsky embark on a long and tortuous process to live his life like homo economicus. Is this even possible? If so, is it desirable? Even if it's better for an individual, is it good for society?
In his quest, Rosalsky is guided by the wise and charming Richard Thaler, the University of Chicago economist who has dragged the homo economicus model into the modern era, helping to pioneer the field of behavioral economics. If you spend any time at all in Freakonomics land, you know how much we admire Thaler. He is the co-author (with Cass Sunstein) of the landmark 2008 book Nudge; and Thaler has just published a wonderful new book called Misbehaving: The Making of Behavioral Economics. (The fact that you are reading these words on this site means you will almost certainly enjoy Misbehaving; you should go buy it immediately.)
In the podcast, Thaler counsels Rosalsky on how to get a seat on the subway, how to play the dating market, and whether to pay for public goods like free music in the subway. Rosalsky also ponders whether voting is a rational act, receiving advice in this realm from Bryan Caplan, author of The Myth of the Rational Voter (whom you heard from in our "We the Sheeple" episode as well as in "The Economist's Guide To Parenting"). Rosalsky also draws on the economic wisdom of Katherine Milkman, Mancur Olson, and Gordon Tullock.
I am most curious to hear what you think of Greg Rosalsky's journey of self-discovery — and whether it made you more, or perhaps less, likely to embrace the bedrock truisms of economics. In any event, he did a fantastic job with this episode and I am sure you love it.