The Perfect Crime (Ep. 165)
This week's podcast is called "The Perfect Crime": in it, Stephen Dubner describes a way to kill someone without any punishment. (You can subscribe to the podcast at iTunes, get the RSS feed, or listen via the media player above. You can also read the transcript, which includes credits for the music you'll hear in the episode.) But let's be clear: Dubner isn't suggesting that anyone actually try this. In fact, the problem is that too many people are doing it already.
So what's "the perfect crime"? It turns out that if you are driving your car and run over a pedestrian, there's a good chance — especially if you live in New York — that you'll barely be punished. Why?
We hear from Lisa Smith, a former prosecutor and now a law professor, who tells us that just 5 percent of the New York drivers who are involved in a fatal crash with a pedestrian are arrested. As it happens, New York has particularly narrow standards for conviction in such cases; there is a lot of variance among states.
Throughout the U.S., there are more than 4,500 pedestrian deaths a year, about 14 percent of traffic fatalities: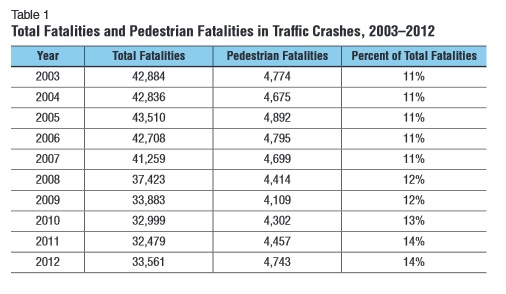 In New York City, meanwhile, pedestrian deaths make up an astonishing 52 percent of traffic fatalities.
Who's to blame for all this pedestrian death? Let's take a look at data from the National Highway Traffic Safety Administration's Fatality Reporting System. While 25 percent of pedestrian deaths are attributed to the driver's failure to yield, pedestrian behavior looks pretty bad too — they lie down in the street, dart into the road, cross improperly, and so on: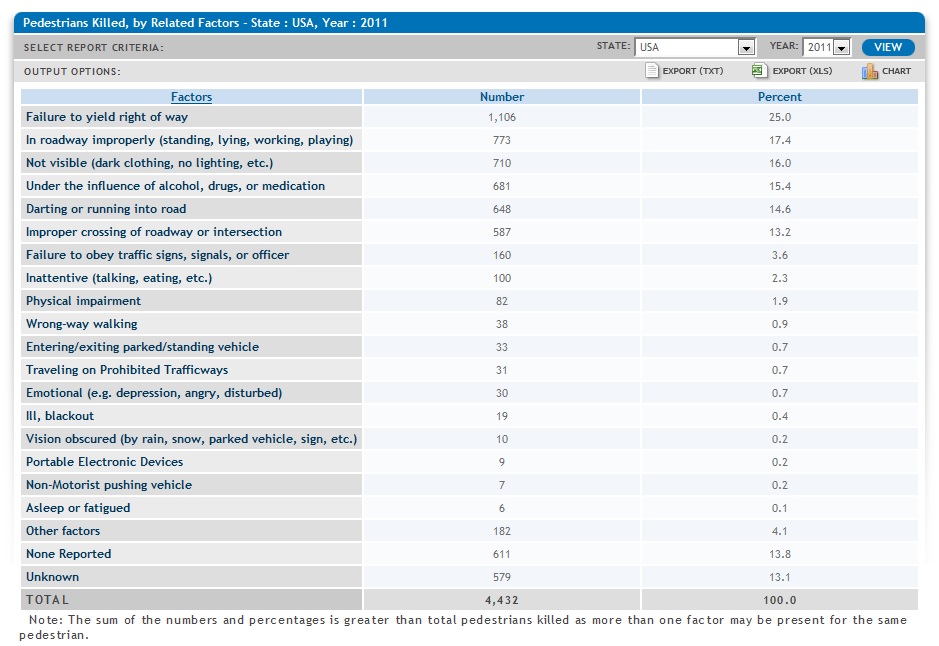 But these data may not reflect the entire truth. Dubner speaks with Charlie Zegeer, associate director of the Highway Research Center at the University of North Carolina, who says it's hard to accurately determine the cause of many pedestrian deaths:
ZEGEER: The reason we don't know is because the information we have to make that determination is essentially on police crash reports. And so oftentime the only witness is the surviving driver. And so the police officer only hears that one side of the story.
This leads to a conversation about a core issue: who do the roads belong to anyway? You'll hear from Robert Noland, director of the Voorhees Transportation Center at Rutgers; the transportation historian Peter Norton, author of Fighting Traffic: The Dawn of the Motor Age in the American City; the Harvard "urban economist" Ed Glaeser; and a couple of New York trauma doctors, Spiros Frangos and Stephen Wall.
The doctors tell us that about 25 percent of the trauma patients who come through Bellevue are pedestrians who've been struck by cars. Frangos and Wall have written a series of papers on the topic, including "Vulnerable Roadway Users Struck by Motor Vehicles at the Center of the Safest, Largest U.S. City." So what can be done to keep New York pedestrians from dying? Frangos and Wall propose — only half-jokingly — helmets for everyone:
WALL: From our data, I think all pedestrians should be wearing helmets. But who would really want to wear a bike helmet when they're walking, when they're going out for a date, and that's also the reason why they don't wear them when they're riding their bicycle. But there's some truth to it.