Two Book Authors and a Microphone (Ep. 7)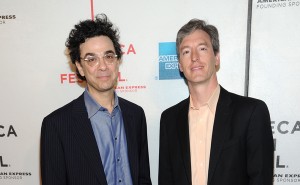 The next chapter in the adventures of Dubner and Levitt has begun. After a post-World Cup summer break from Freakonomics Radio, we're back, with new podcasts and whole new radio enterprise.
Freakonomics Radio is now coming to you from the studios of WNYC in New York, in a production partnership with American Public Media. We'll be putting out a new podcast every two weeks (and going weekly by early 2011) and contributing regular reports on Marketplace, the public-radio program we love the most. We'll also make one-hour shows that will air on public-radio stations across the country, and we'll do some live events.
By clicking the audio link above, you'll hear a podcast that previews the fall Freakonomics Radio season. Levitt reads your iTunes reviews of the podcast (his favorite won't surprise you). We'll also dive into Taipei's trash trucks, consider the vuvuzela's upside, and hear from a man who sounds for all the world like a philosopher king. You'll also learn how Kai Ryssdal's name would be spelled in Norway, and you'll get inside the mind of people whose names you do know how to spell, like Rudy Giuliani and Arne Duncan.
Make sure you subscribe to the podcast so that new episodes come to you in your sleep. You can read the transcript of this podcast here. You can keep up with all things Freakonomics (the new movie, for instance), via Twitter, the Freakonomics blog on NYTimes.com, and on Facebook. The adventures have just begun.