We the Sheeple (Ep. 98)
Our latest Freakonomics Radio episode is called "We the Sheeple." (You can download/subscribe at iTunes, get the RSS feed, listen via the media player above, or read the transcript here.)  The gist: politicians tell voters exactly what they want to hear, even when it makes no sense — which is pretty much all the time.
With the Presidential election finally almost here, this is the last of our politically themed podcasts for a while. We've previously looked at how much the President really matters (updated here); whether campaign spending is as influential as people think; why people bother to vote (related Times column here); whether we tell the truth in polls; and whether we should consider importing the British tradition of Prime Minister's Questions.
"We the Sheeple" features Bryan Caplan, the economist-author of The Myth of the Rational Voter: Why Democracies Choose Bad Policies. You might have read or heard from Caplan in other Freakonomics venues, including "The Economist's Guide to Parenting," in which he discussed another of his books, Selfish Reasons to Have More Kids.

Caplan is, to put it gently, not a fan of our current political system. At he puts it in the podcast:
CAPLAN: You know, if you're a successful politician, you know you don't succeed by figuring out what's really going on in the world and trying to explain it to people. You need to find out what people what to hear and then tell it to them. That's what you see in debates. That's what you see voters, successful politicians instinctively are trying to read people, trying to read their faces, what does this person want me to say to him, and that's how they win.
Caplan also shares with us a letter he received from a Virginia state senator after The Myth of the Rational Voter was published. The senator wanted to thank Caplan for "confirming by your research that my ideas about the stupidity of voters is a valid thought":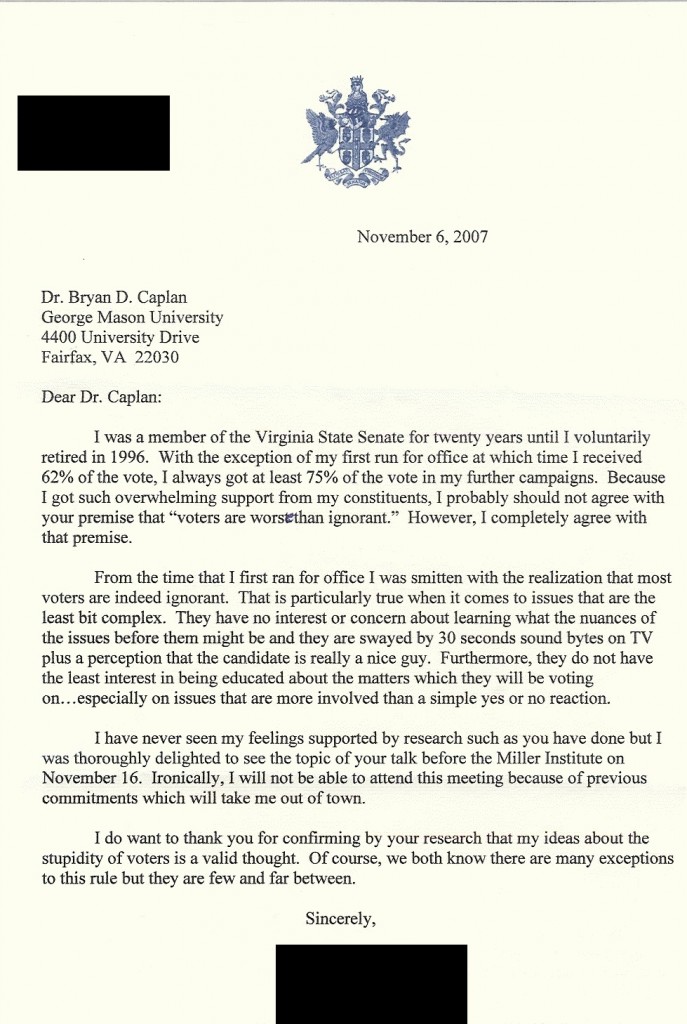 In the podcast you'll also hear Steve Levitt talk about what he sees as the biggest upside of voting:
LEVITT: I think the reason most people vote, and the reason I occasionally vote is that it's fun. It's fun to vote, it's expressive, and it's a way to say the kind of person you are, and it's a way to be able to say when something goes wrong when the opponent wins, "well I voted against that fool." Or when something goes right when you voted for a guy to tell your grandchildren, "well I voted for that president." So there's nothing wrong with voting. [But] I think you can tell whether someone's smart of not smart by their reasons for voting.
Levitt also tells us what he thinks of the idea of compulsory voting, as practiced in Australia and other places. FWIW, we just received an e-mail on this topic from an Australian reader named Andrew Mannion:
There is a sense that it's a waste for those who have no interest in politics, although for most of us, voting is just a Saturday morning chore (all our elections are held on Saturdays) to be done with before watching the football or cricket. There is an upside though: with compulsory voting, there's no need for political parties to spend big dollars on getting people out to vote. Here, that's guaranteed. So what money is spent – and there's far less of that here – can be spent on selling policies.
And finally, below is a list of the music that you'll hear in this episode. David Herman is our engineer and among his many skills is an excellent taste and feel for the music that elevates our podcast above the mere chatter of stationary people. From now on, we'll try to list the music for all episodes.
"We the Sheeple" Music Credits: