What Do Hand-Washing and Financial Illiteracy Have in Common? (Ep. 58)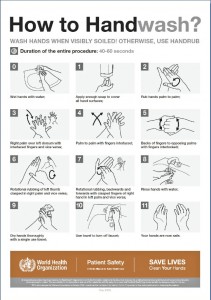 Our latest podcast is called "What Do Hand-Washing and Financial Illiteracy Have in Common?" (You can download/subscribe at iTunes, get the RSS feed, listen live via the media player above, or read the transcript.) It explores the idea that most problems are solved by more education — except when they're not.
You'll hear Michael Langberg, chief medical officer at Cedars Sinai Medical Center in Los Angeles, talk about why doctors there (and elsewhere) routinely fail to wash their hands despite the evidence suggesting they must:
LANGBERG: There's something in the human condition that somehow disconnects what is really good evidence from personal choice and habit. And I don't know why that is. I'm not a psychiatrist; my field is internal medicine. I just have the observation. Physicians are no different.

You'll also hear National Book Award winner Sherwin Nuland, another doctor, talk about Ignatz Semmelweis's discovery of the importance of hand hygiene.
We then turn to the topic of financial literacy, which we've written about before. You'll hear from Alan Krueger, chairman of the White House's Council of Economic Advisers; and from Krueger's predecessor, Austan Goolsbee, who talks about the role that Americans' financial illiteracy played in the Great Recession.
You'll then hear from two guests who offer up radically different solutions to our financial illiteracy. One is Annamaria Lusardi, an economist at George Washington University, who has spent the past 10 years studying the topic, and believes that education is the way out:
 LUSARDI: In the same way we start people, you know, in school just reading and writing, you know, from the very beginning. We don't teach literature so that people go on and write "War and Peace," but we teach it so that people can appreciate a good book.
Next is Lauren Willis, a legal scholar who previously worked at the Justice Department and the Federal Trade Commission. She has argued against widespread financial education, recommending instead a new cadre of financial advisers and greater transparency and regulation in the financial industry:
WILLIS: It's sort of like saying, well we should start teaching everybody to be their own doctor, teaching everyone to be their own mechanic, you know, something like that, terribly inefficient to do that. Not only is it inefficient, but it has this sort of culture of blaming the consumer. You know, you're the one who didn't figure this all out.