Would You Let a Coin Toss Decide Your Future? (Ep. 112)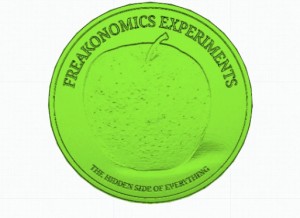 Our latest Freakonomics Radio podcast is called "Would You Let a Coin Toss Decide Your Future?" (You can download/subscribe at iTunes, get the RSS feed, or listen via the media player above. You can also read the transcript here; it includes credits for the music you'll hear in the episode.)
In it, Stephen Dubner grills Steve Levitt about a new project called Freakonomics Experiments. (Levitt blogged about it here and stopped by Marketplace last week.) The basic idea is to learn more about how people make decisions, especially when they're on the margin. So: if you're struggling with a decision, large or small, you can bring your question to FreakonomicsExperiments.com [DEFUNCT], where a random coin flip will help solve your dilemma. You also become part of the scientific experiment by taking follow-up surveys and letting the research team know how the decision turned out.
The idea originated from the flood of emails Dubner and Levitt received in response to our "Upside of Quitting" podcast. Many listeners said the show had emboldened them to quit something they no longer wanted to do. In this podcast, you'll hear from two of those quitters: former racecar driver Daniel Herrington and ex-runner Serra Mentessi.
But other listeners wrote in with ongoing issues:
LEVITT: So many people said, "Hey should I quit this?" or "Should I do that?" And how would we know? I mean, we have no idea, we don't know these people, we don't know anything about them. There's no way we could give an intelligent answer to that question, but it got me thinking. And really what's the best we can do is we can give people who are having trouble deciding a framework for thinking about those decisions. And in certain circumstances, maybe we could do some experiments which would both help us and our research and also help the people.
Thus was born Freakonomics Experiments. Here's what Levitt hopes to learn from the data:
LEVITT: What I hope to learn is whether or not there are any maybe big, systematic rules that we could tell people about decision-making. So for instance, it may just be the case that people rarely make the big changes, but the people who make the big changes are much happier in their lives after they make those changes. So there's a status quo bias. So let's just say over thousands of people making real-world big decisions we find that the changers, the ones who shake up the status quo, do better. Well if that's true, then that's a really important message, because what that means is whenever you're on the margin, you should have a default rule, which is I go for the change. Okay, do I know that will happen? I have no idea. It could be just the opposite. It could be that we should never do any big changes, we're always better off leaving things the way they are. We might learn that as well. But it's the fact that I have no idea what the right answer is which gets me so interested in going out and for the first time trying to measure this and learn about it.
You'll also hear about the study's design, what kinds of questions you can't ask the coin, and why this whole idea isn't quite as ridiculous as it sounds.