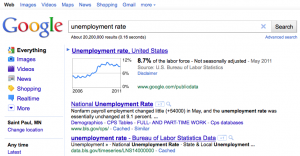 I love Google. But it's not a very good economist. Type "unemployment rate," and here's what it yields:
The first of these links is from Google, and it tells you that the unemployment rate is 8.7%. The second is to the Bureau of Labor Statistics, which tells you that it is 9.1%.
Technically, both are correct. But you are better off not relying on the Google number. You see most economic discourse is about seasonally-adjusted data—the unemployment rate adjusted to take account of the usual seasonal ups and downs. But Google links instead to the non-seasonally-adjusted data, which virtually no one pays attention to. And this is why its little graph wiggles up and down so much.