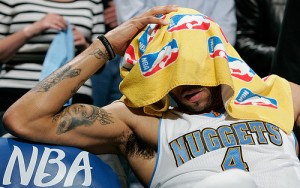 The following is a guest post by David Berri, a Professor of Economics at Southern Utah University. He is also the lead author of Stumbling on Wins, the general manager of the sports-economics blog Wages of Wins, and is a frequent contributor to the Freakonomics blog.
In the past couple weeks I have written about labor negotiations in the NBA and the recent labor agreement in Major League Baseball. Now that we have agreements in both sports, thanks to the new NBA deal, I would like to address why the two unions involved in these negotiations have historically achieved such different outcomes.
Let's begin with how the outcomes are different.