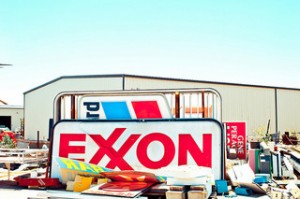 Foreign Policy interviews Steve Coll about his new book Private Empire
, which is about ExxonMobil's ongoing dominance. Coll explains the company's competitive strategy, which it relies on when competing against other companies for African contracts as well as with state-owned oil companies in the Middle East:
I also think that the way they win these deals in a place like Chad or Papua New Guinea or Angola is, in effect, they go to the host country and say: "Look, we recognize that you can deal with the Chinese, and you'll get soft loans and guns and things that you think are more valuable than what we can offer you, but what you'll also get is really lousy project management. You'll get less oil pumped, you'll get less royalties, you'll get less taxes, so you'll end up net poorer. Why not come work with us under our rule of law, under a really straightforward contract? And what our record shows is that you'll end up with more cash faster -- and then you can use that cash to buy whatever guns you want? But you'll have the money to carry out what ever plans you have; and we're reliable, we'll come in on time."