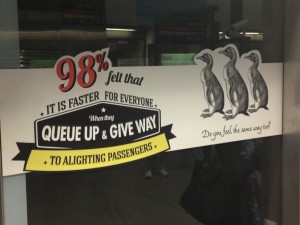 Our "Riding the Herd Mentality" podcast argued that one surprisingly effective way to encourage pro-social behavior is to simply tell people that everybody else is already doing it.
A reader named Freek Rijna -- "Jep, that's my real name and it's typically Dutch. :-)" -- sends in this example from the Singapore subway. "Thought you might enjoy it," Freek writes. "Not sure about the penguins though ..."
I see Freek's point. Also, I might have to stop for a minute to think whether "alighting" means getting off or getting on ...