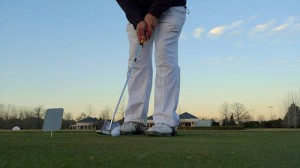 I always love it when I've been doing something one way my whole life, and then someone explains to me there is a better way to do that same thing, and the new way is so simple I can immediately switch and see benefits.
Usually it is a new technology that unlocks the magic. For instance, XM Radio, iTunes and Pandora all fundamentally changed the way I listen to music. My Sonicare toothbrush is a hundred times better than a regular toothbrush. After the creation of seedless watermelons, I would never again intentionally buy one that had seeds. Microwave popcorn is another example.
What is even neater, I think, than a new technology changing things, is when someone just comes up with a better way of thinking about a problem. I've done a little bit of reading on the origins of randomized experimentation, and it is fascinating to see how that new and powerful idea emerged.
On a much smaller scale, I've recently had that sort of change in my thinking about another issue: how to read putts on the green when playing golf.