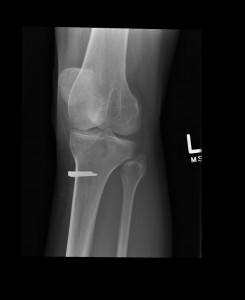 Jared Foran, an orthopedic surgeon in Denver, is a co-author of a new study called "Patient Perception of Physician Reimbursement in Elective Total Hip and Knee Arthroplasty" (PDF here). The authors surveyed 1,200 patients to see how much they thought orthopedic surgeons should make and what Medicare actually pays for a hip or knee replacement.
In an e-mail, Foran describes their results:
On average, patients thought that surgeons should receive $18,501 for total hip replacements,  and $16,822 for total knee replacements. Patients estimated actual Medicare reimbursement to be $11,151 for total hip replacements and $8,902 for total knee replacements.  Seventy per cent of patients stated that Medicare reimbursement was "much lower" than what it should be, and only 1% felt that it was higher than it should be.