The Economics of Sleep, Part 2 (Ep. 212)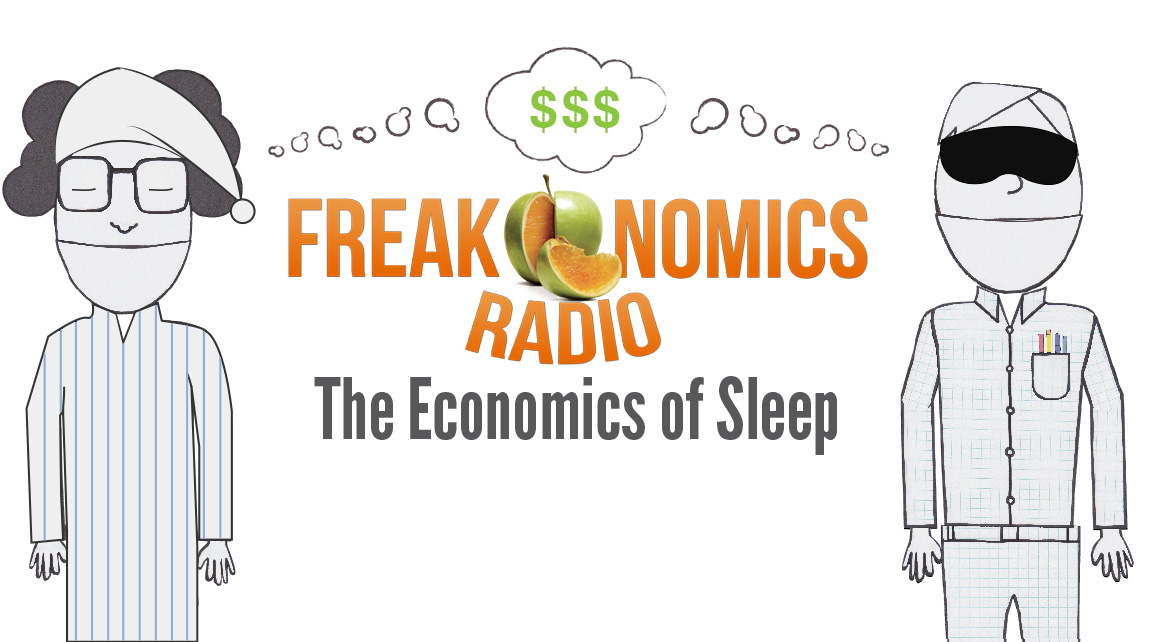 Our latest Freakonomics Radio episode is "The Economics of Sleep, Part 2." (You can subscribe to the podcast at iTunes or elsewhere, get the RSS feed, or listen via the media player above. You can also read the transcript, which includes credits for the music you'll hear in the episode.)
In our previous episode, we primarily discussed the health implications of sleep. This time, we look at the economic impact. One big takeaway: if you sleep more, you will likely earn more money. How do we know this? Thanks to a fascinating paper by Matthew Gibson and Jeffrey Shrader, called "Time Use and Productivity: The Wage Returns to Sleep." As Gibson tells us, economists have traditionally not paid too much attention to sleep — in part because good data were hard to come by:
GIBSON: What we really need is something like an experiment for sleep. Almost as though we go out in the United States and force people to sleep different amounts and then watch what the outcome is on their wages. And it turns out that ever since we've put time zones into place, we've basically been running just that sort of giant experiment on everyone in America.
So Gibson and Shrader looked at similar populations that lie at opposite ends of time zones — for instance, Huntsville, Alabama (on the eastern edge of the Central Time Zone), and Amarillo, Texas (on the western edge). Even though cities like this are on the same clock, the western city gets roughly an hour more of sunlight – which means that people there tend to go to bed later. But they have to wake up the same time as people in the eastern city – so, on average, they get less sleep. Gibson and Shrader could then look at the wage data in places like this to see how an extra dose of sleep affects earnings:
GIBSON: And we find that permanently increasing sleep by an hour per week for everybody in a city, increases the wages in that location by about 4.5%.
But there's much more in this episode. Among the many voices you'll hear:
+ Lauren Hale, a sleep researcher at Stony Brook University and a board member of the National Sleep Foundation. In last week's episode, she told us she'd keep all computer screens out of her bedroom for a week and see how she slept. This week, she tells us the result.
+ Dan Hamermesh, a professor of economics at Royal Holloway University of London, emeritus professor at the University of Texas at Austin, and one of the first scholars to consider the economics of sleep:
HAMERMESH: Indeed, when this research was first written up in 1989, the headline was "Sleep, Why Bother? It Costs Too Much." And the argument being there, that if you have other things to do with your time like make money, you'll sleep less. The crucial point is sleep is not entirely biological, it responds to incentives. That's the interesting economic point.
+ David Dinges, a professor of psychology and psychiatry at Penn, who tells us about his experimental research looking into the cumulative costs of sleep loss:
DINGES: The less sleep we gave people at night — so if went from seven or eight hours a night down to six or five — the more we got this cumulative rate of build-up of these deficits. They got worse every day. When the sleep got very short, down to four hours or three hours, they got worse every day very rapidly and very dramatically. So there was a dose-response function. The less sleep you got chronically, the more rapidly you deteriorated.
+ Jens Bonke, an economist and senior researcher at the Rockwool Foundation in Copenhagen, whose research (gated) examines whether early birds really do get more worms. Short answer: yes!
+ Heather Schofield, a postdoc fellow at the Center for Global Development, who is conducting experimental research (along with Frank Schillbach of MIT and Gautam Rao of Harvard) in India, where there are a lot of barriers to good sleep:
SCHOFIELD: Basically we'll conduct a lottery and half the people in the study will be given things to help them sleep better at night. So we'll give them a mat to sleep on, something like a camping mat, which makes the surface softer. We'll give them a pillow so their neck isn't as stiff. We'll give them a light sheet and a fan to help keep the mosquitoes away. They'll also get an eyeshade and ear-plugs to help deal with the light and the noise. In addition to that, we'll also ask them to take a nap in the office every day. They have that choice whether or not they want to. But it will be a very pleasant environment where they can go where it's cool and comfortable and take 20 or 30 minutes just to rest. Because there's actually pretty good evidence just from work here in the U.S. and in other developed countries that short naps of 20 or 30 minutes can actually really improve your cognitive performance and your ability to kind of focus.
+ Dan Pardi, CEO of the health consultancy Dan's Plan, who has all kinds of advice about how we can all sleep a bit better, and in a style that suits our individual metabolisms.
What's the Freakonomics prescription for a good night's sleep? A good pair of earplugs and some Goldberg Variations, preferably played by Glenn Gould.