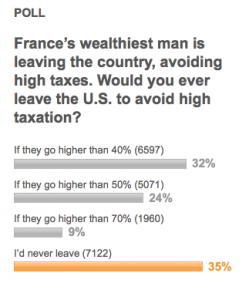 Our latest Freakonomics Radio on Marketplace podcast is called "Lying to Ourselves." (You can download/subscribe at iTunes, get the RSS feed, or listen via the media player in the post.) 
The episode was inspired by a recent poll I saw on Yahoo! Finance (at left).
Does anyone believe for a minute that this many people would actually leave the U.S. if taxes (whatever that means, exactly) were to rise to 40 percent or even 70 percent?